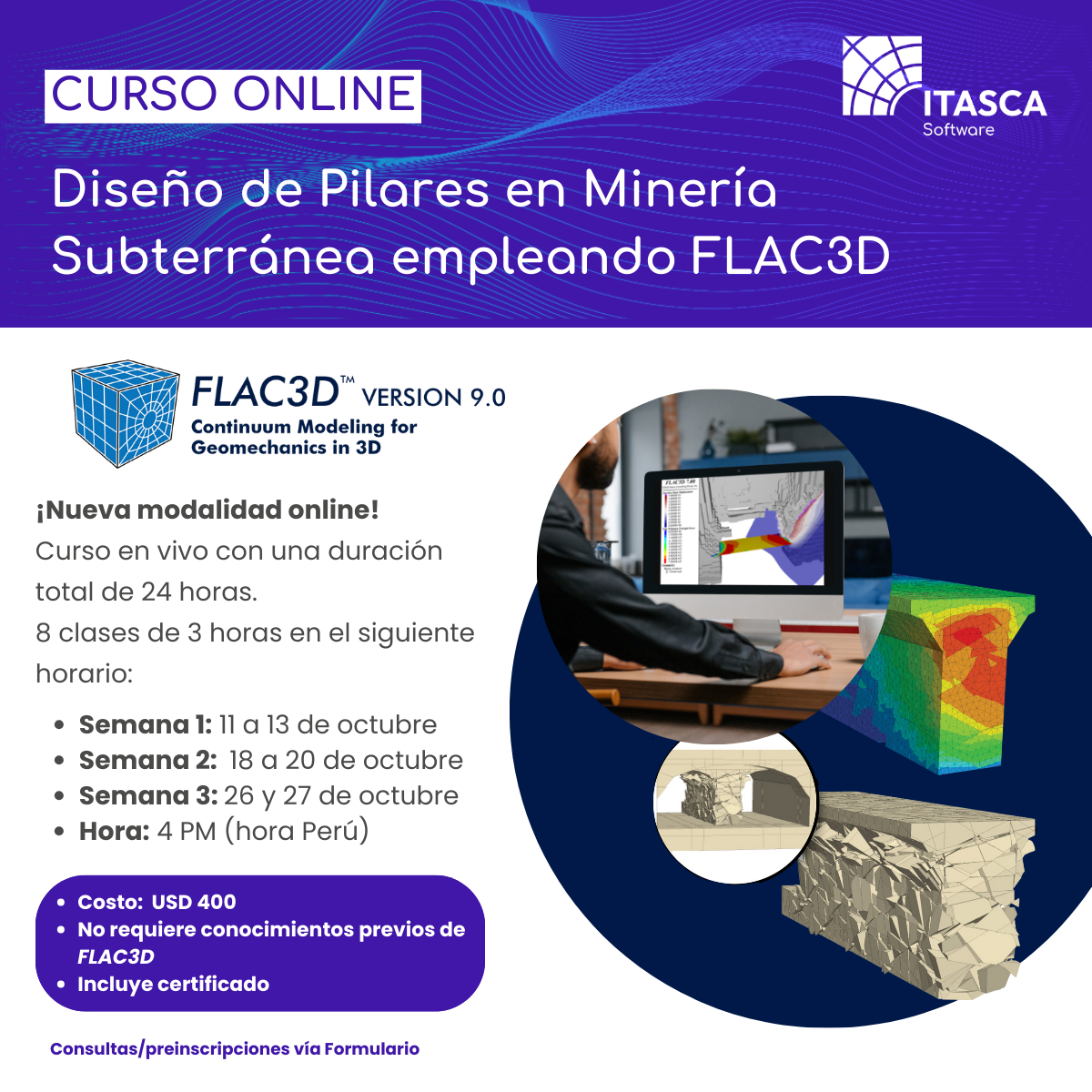 Curso Online/Plataforma TEAMS
11 oct. 2023 - 27 oct. 2023
Diseño de Pilares en Minería Subterránea empleando FLAC3D
¡Nueva modalidad online!
Curso en vivo con una duración total de 24 horas.
8 clases de 3 horas los jueves y viernes de octubre a las 4 PM (PE)
¡Atención! Nuevas Fechas
Semana 1: 11 y 13 de octubre
Semana 2: 18 y 20 de octubre
Semana 3: 26 y 27 de octubre
Consultas/preinscripciones vía Formulario

Plazo de inscripción: 29 de septiembre

Online
16 nov. 2023 - 17 nov. 2023
This course provides an overview of the Python programming language in Itasca software. The course covers major applications of Python to extend modeling capabilities with the Itasca codes through a number of applied examples.
Tutoriales de Software
This tutorial steps through the actions necessary to quickly create and solve a FLAC3D model. The focus of this tutorial is to provide you with a basic familiarity with the user interface and recommended work flow.
Artículos Técnicos
The proliferation of mine pits that intersect the groundwater table has engendered interest in environmental consequences of the lakes that form after cessation of dewatering.
This paper presents a model of a stone masonry Roman aqueduct (the Valens Aqueduct), constructed in the fourth century A.D. in Istanbul, Turkey, to explore the seismic capacity and behavior using the discrete element method (DEM).
The challenges of mining economically have never been greater than under current global financial conditions.